Sara Bergmark Elfgren & Mats Strandberg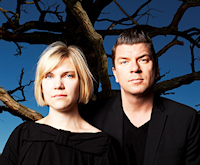 Sara Bergmark Elfgren and Mats Strandberg are the authors of the acclaimed fantasy novel The Circle. The translations rights have been sold for more than twenty languages. The Circle takes place in the fictitious small town of Engelsfors where a motley group of teenage girls discover that they are witches. The Circle is the first part of a trilogy and the second volume, Eld (Fire), was published in Swedish in 2012. The third and final part, Nyckeln (The Key), will appear in 2013.
Joe Abercrombie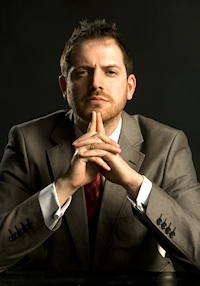 The British author Joe Abercrombie is the man behind the brutal fantasy trilogy The First Law and the novels Best Served Cold and The Heroes, set in the same world, all of which expose the gritty truths behind the heroic façades of the great men and women that populate traditional heroic fantasy. When he's not busy exposing gritty truths, Joe is a friendly guy who likes a beer in the bar.
Before he started publishing fiction, Joe worked in TV production and film editing.
Peter Watts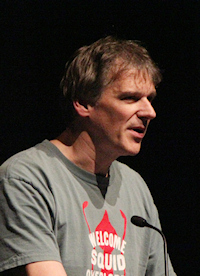 Canadian Peter Watts writes challenging science fiction that often reveals his background as a marine biologist. His Rifters trilogy got its name from humans who have been modified to be able to live in the oceans. His most critically acclaimed work is the Hugo-nominated novel Blindsight. He has also worked in computer games, in particular with Crysis 2, which he wrote a novelization of.
Kelly Link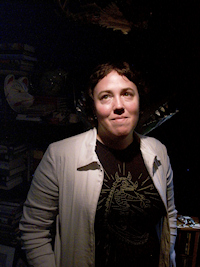 Kelly Link is an award-winning American short story writer and editor. Together with her husband, Gavin Grant (who is also coming to Kontrast), she runs the publishing company Small Beer Press and her short stories can often be placed in (and between) genres such as fantasy, SF, horror and magical realism.
Niels Dalgaard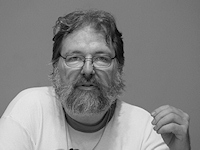 Our fan Guest of Honour, Niels Dalgaard, has a Ph. D. in literature and works as a translator and editor. Dalgaard has been active in the Danish science fiction community since the seventies and has also written its history in Fanmarkshistorien : dansk science fiction fandoms historie (1999). In addition to writing books and essays about science fiction, Dalgaard has also edited several magazines, including the Danish Science Fiction Circle's magazine Proxima.